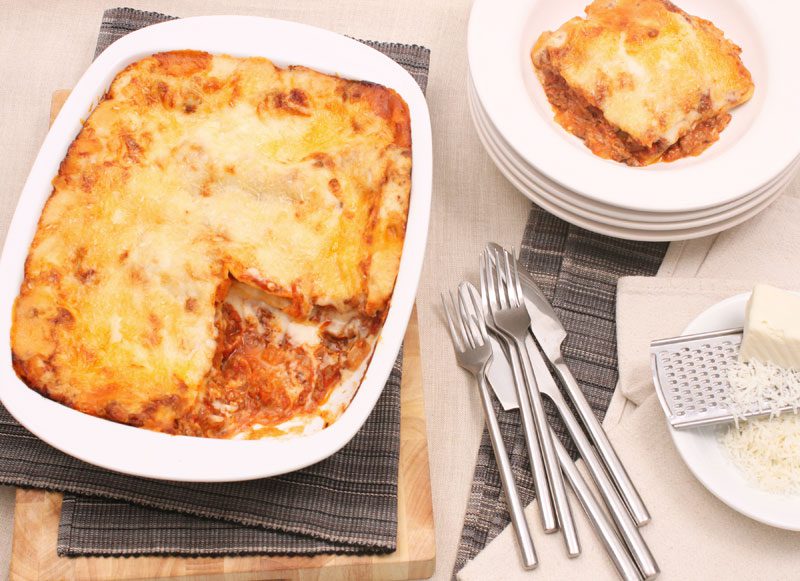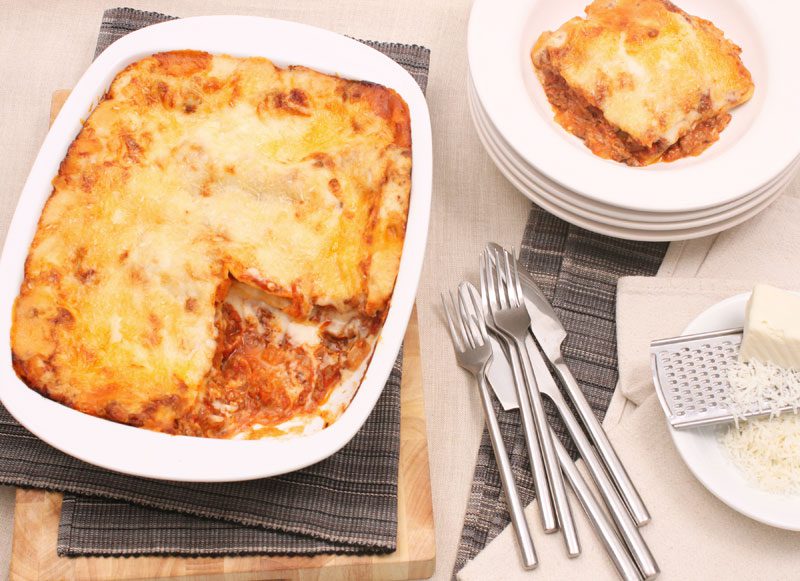 Beef Lasagne
A classic Italian-style beef lasagne with a goats' cheese white sauce
Servings: 4-6
Prep Time: 10 mins
Cooking Time: 70mins
What you'll need
500g of minced beef
1 large onion (approx 210g), finely chopped
800g tinned chopped tomatoes
60g Delamere Dairy goats' butter (4 tbsp)
8 lasagne sheets
60g plain white flour (4 tbsp)
2 tbsp olive oil
1 clove of garlic, finely chopped
2 tbsp tomato puree
2 tsp dried oregano
How to make it...
Preheat the oven to 180°C. To make the beef ragu, heat 2 tbsp oil in a large saucepan and fry the mince over a high heat for 4-5 minutes, or until browned. Remove from the pan and set aside. Add more oil to the pan, if necessary, and fry the onion and garlic for 4-5 minutes, or until the onion is soft. Return the mince to the pan and stir in the chopped tomatoes, tomato puree and oregano. Gently simmer, covered, for 20 minutes, or until the sauce thickens. Season the ragu to taste with salt and pepper.
Meanwhile, to make the white sauce, melt the butter in a large saucepan. Stir in the flour and cook over a medium heat for 1 minute. Turn down the heat and add only as much milk as the mixture can absorb to make a slightly smoother paste. Work the paste to an even consistency before adding a little more milk and repeat. Once the paste has a creamy consistency, gradually stir in the remaining milk. Bring to the boil and simmer, stirring constantly, until the sauce thickens. Remove from the heat and stir in 100g goat's cheese. Season to taste with salt and pepper and set aside.
Layer one-quarter of the tomato sauce and one-quarter of the white sauce into an ovenproof dish and top with one third of the lasagne sheets. Repeat the process until all the white sauce, ragu sauce and lasagne sheets are used up, ending with a topping of white sauce.
Sprinkle the remaining medium goat's cheese evenly over the top and bake in the oven for 40 minutes, or until the top is browned and bubbling.
Serve with garlic bread and a side-salad.